Diabetes
We know that having diabetes can be stressful and managing all the different aspects of it can be quite daunting especially in the first few months after diagnosis. The feet are often the last things we think about so let us here at the Osteopathy and Podiatry Centre give you peace of mind. Our podiatrists will thoroughly screen your feet for complications of diabetes and mange and prevent any more serious issues.
One in three Singaporeans will develop diabetes by the time they are 69 and 10-15% of these will be affected by a foot ulcer at some point during their lives. Diabetic foot ulcers are a major reason for hospitalisation and account for more than two-thirds of non-traumatic lower limb amputations performed.
Podiatric screening, monitoring the feet, wearing the correct footwear and early intervention if there are any problems greatly reduce the chances foot complications.
To book an appointment call +65 6734 4236 book online here
Yearly Foot Screening
If you have diabetes it is advisable to have yearly foot screening as diabetes can adversely affect the blood circulation as well as the nervous system. Screening involves checking of the blood flow and sensation in the feet.
The podiatrist will also check for any lesions such as corns & callus which left untreated may lead to ulcers or pressure sores. Regular debridement can prevent this, together with managing the cause of the overloading with custom made orthotics or total contact insoles.
During the screening appointment any lesions found will be appropriately dealt with. If you are found to be 'high risk' i.e. have circulatory problems or diminished sensation the podiatrist may ask you to return for more frequent check ups. Screening is for patients of all ages and should not be restricted to the elderly.
Prevention is better than cure and foot screening has been shown to significantly reduce the number of amputations in diabetics.
To book an appointment call +65 6734 4236 book online here
---
Footwear & Footcare Advice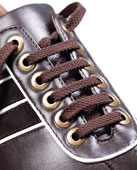 Poorly fitting footwear is one of the major causes of ulceration and amputation in patients who suffer from diabetes. The podiatrist can check footwear and the fitting of the shoe and advise on the features of a good shoe. Patients with neuropathy (loss of feeling) must be especially careful about the fit of the shoe as they often choose shoes that are too small.

The podiatrist may also advise on better socks, such as those to reduce friction from shoes, or socks without tight elastic for patients who have circulatory problems or that suffer with swollen legs or ankles.

Advice will also be given on daily care of feet, as keeping the feet clean and infection free will help prevent potential problems. Problems to look out for will be highlighted and guidance on what to do in case of a foot emergency. Nail care advice will also be given if necessary and if the patient is unable to take care of the nails properly the podiatrist will provide a professional nail cutting service.
To book an appointment call +65 6734 4236 book online here
---
Total Contact Insoles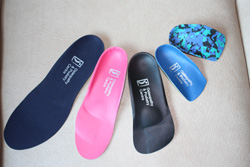 These are custom made insoles or orthotics to redistribute pressure and mechanical stress away from high pressure areas on the soles of the feet that are at risk of ulceration. If a patient repeatedly has areas of thick callus or corns especially with extravasation (leakage of blood into the skin causing the callus to look brown, red or black) it may lead to ulceration and possible amputation. These types of insoles are usually used for patients with diabetes who have foot complications. The podiatrist may ask you to change your footwear so as to be able to accommodate theses insoles.
Ulcer Management

If you notice you have a wound on your foot it needs to be dealt with urgently. Ten to fifteen percent of diabetic patients develop foot ulcers at some point in their lives and foot related problems are responsible for up to 50% of diabetes related hospital admissions.

Ulcers on the feet are caused by excessive pressure or shearing forces causing a breakdown in the skin's surface. They are more common in those who have complications affecting the nerves (neuropathy) or circulation (ischaemia). They can become further complicated by infection, sharply increasing the chances of amputation.

Ulcer management involves finding the cause of the high pressure and alleviating it e.g. total contact insoles/orthotics, change of footwear; addressing any underlying issues such as blood flow, managing the infection with antibiotics, regular sharp debridement of the wound edges and an appropriate dressing regime.
To book an appointment call +65 673 44236 book online here
---
Emergencies

Emergencies relating to the feet need to be seen to immediately to prevent further complications and amputation.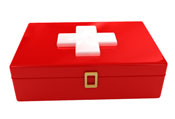 Simple cuts and abrasions should be washed in salt water and dressed with antiseptic and a sterile dressing. These should be checked and dressed daily to ensure they do not become infected. They should be kept dry when bathing until the wound has completely healed over. If it does not start healing within a couple of days help should be sought from a doctor or podiatrist

If a patient notices callus with discolouration this should be seen by a podiatrist as soon as possible as there may be a breakdown (ulcer) underneath it. Large or very heavily discoloured areas of callus need immediate debridement. In this case please call the podiatrist and ask for an urgent appointment (same day if possible). If it is outside office hours you can contact us via Facebook. If there is associated redness spreading up the foot or the patient has a fever please go to Accident and Emergency.